Searching for the perfect Admin Template Dashboard for your site/project? We've been there too! With hundreds and thousands of choice, comes the frustration of choosing the right one. Will it fulfill your needs? Will it function properly? Does it have the design that you'd love to see on a daily basis? Does it have enough customization you need? There's just so much to consider when choosing an admin dashboard template.
On the other hand side, if you are a developer, building an admin dashboard template from scratch takes a huge amount time. It's just not efficient to work on admin dashboard template every time you build a new project. You should rather spend your time doing things that are actually worth it. Some of the admin dashboard template in this collection is open source. You can directly plug it in your project or customize to suit your needs. Thank us later after saving a crazy amount of time.
Whether you're looking for an admin dashboard template for your personal use or to use in your project, we've got something for you. We've taken the time to look at tons of admin dashboard template and cherry-picked the absolute best of them. We believe, this enormous list of 37 admin dashboard template will save you some time and frustration while help you find the perfect admin dashboard template of your flavor. And what's best, they are all FREE! Let's get started!
Core UI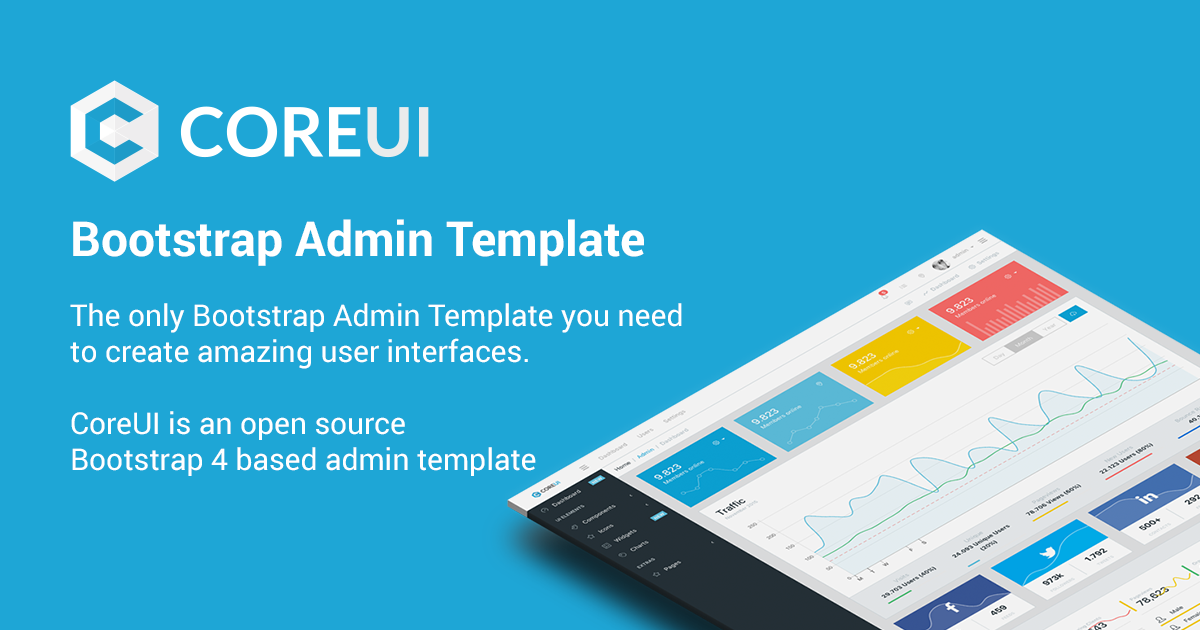 Core UI is our most favorite of this list. It's beautifully crafted using top of line technology like Bootstrap 4, SASS etc. It offers 6 different versions including HTML5 Static, HTML5 AJAX, AngularJS, Angular 2+, React.js & Vue.js. So, You can use this admin dashboard template with any type of site or app. Also, Core UI is an open source project licensed under MIT. Which means you can use it in your project freely!
In terms of design, Core UI is elegant. It has a flat design which is simple to use and yet very feature rich. It comes with decent customization options. Core UI features a fully responsive layout.
Material Dashboard
Material Dashboard is another admin dashboard template that we love. It is built around Google's material design guidelines. The UI and UX of this dashboard is top of the class. It's built on top of Bootstrap, so it's completely responsive. Beside the native component, Material Dashboard has some popular third-party plugins redesigned to match the beauty of the material design. It's sure that Creative Tim, the creative studio of this admin dashboard template, took their time to polish up their product.
This amazing admin dashboard template is also under MIT license, so you can use it in your project without any fuss.
Light Bootstrap Dashboard
Light Bootstrap dashboard is another admin dashboard template that's very popular in the developer space. It's from the same amazing team of Material Dashboard. They have a sharp eye to the details and they strive to keep the dashboard lightweight. As a result, you get a beautiful, sleek and fast dashboard template.
Light Bootstrap Dashboard is built with, as the name suggests, Bootstrap and is fully responsive. It also has Angular 4 and some other versions to suit your needs.
Paper Dashboard
Yet another dashboard for Creative-Tim! This one also has all the same great features like their other products. It's responsive and has a different version for Angular and Vue. It uses white and other lighter shades of color in the UI. Go for it if that's your taste.
Flat Admin Dashboard Template
This one is for those who flat design fans. It features a flat design with bright colors. The UI is nice and simple. It's built on top of Bootstrap 3 and has components like data tables, charts, card elements, forms etc.
Minimal Admin Panel Template
As the name suggests, this one is extremely minimal in its design. It's one of the cleanest admin dashboard templates we've seen. The dashboard includes lots of reusable UI components. It also has components like cards, charts etc. And of course, it's responsive.
My Admin Lite
My admin lite is another light and clean admin dashboard template. It has an uncluttered User Interface. It's responsive and offers easy customizability.
Dashboard by Keen IO
This one is a sweet treat for devs! It's simplistic admin dashboard template that's very very easy to plug into any development projects. It's an open source dashboard template and quite active in development. They have the basic skeleton on GitHub which you can grab and use in an instant! They also have very nice documentation for its usage.
Dark Admin
Okay, so that's a lot of white/light dashboard templates! Now, this one is for you if you are a black fan. This admin dashboard template is almost pure black. So the data is vibrant to the eye. It has 10 different pages and has all the common features that you might expect.
NGX Admin
This one is a visual treat for the eye! It has mind blowing gradient based colorful UI that feels so sophisticated and sleek. It looks modern and has all the modern features as well. Also, it's also built on top of the bleeding edge late technology like Bootstrap 4, Angular 4 etc. It includes lots of UI component, icons, from etc. Also, it's very developer friendly.
Brilliant Free Admin Dashboard Template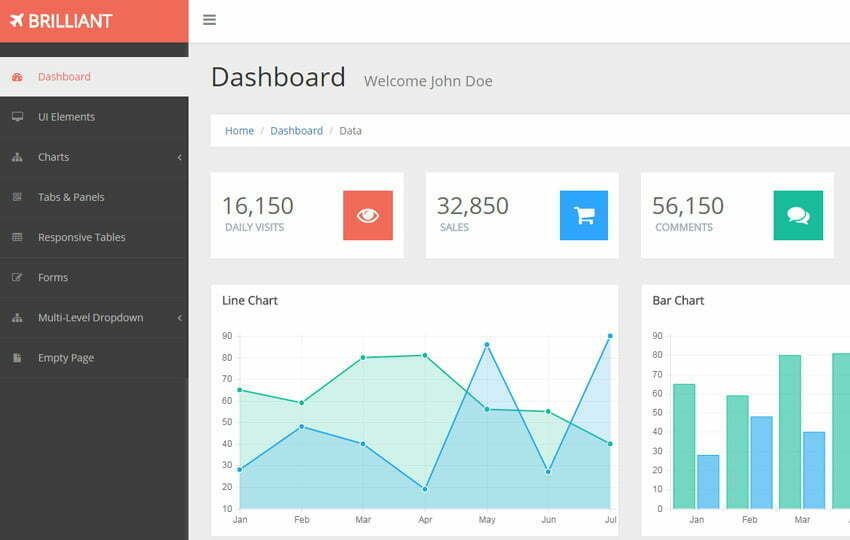 Brilliant is a brilliant dashboard with simplistic and easy on the eye UI. All the data is beautifully organized using tables and charts. It's responsive and customizable. It has built-in Google Font and Font Awesome icons support.
Modern Admin Panel
Modern Admin Panel features a UI with a combination of green and black. The layout is 100% fluid. It has all the needed features like charts, tables, navigation and a sweet calendar.
Karmanta Lite Admin Dashboard Template
Yet another white based dashboard template. The UI is clutter-free and has a lot of white space to take a breath. It's pretty simplistic on the functionality side as well. Kramnata will get the job done without any clutter. It's customizable and includes a lot of pages.More Info / Download
Datta Able Admin Template
Datta Able Bootstrap 4 Lite Admin Template is super flexible, powerful, clean & modern responsive free bootstrap admin template with fully Customizable. What can you find in the FREE version?- Dashboard
– Basic Components – Life Time Update – Fully Responsive – Chart & Maps, Pages – Well Organized Code
Purple Dashboard
Purple admin template has colorful, attractive yet simple and elegant design. Comes with detailed documentation to help you get started and going easily !!

KAdmin
KAdmin another admin dashboard template focused on simplicity. It comes with a lot of customizability options and it's fully responsive. It also includes an e-mail template which can be a huge benefit if you run a blog.
Hierapolis Dashboard Template
Hierapolish is a modern admin panel with a clean flat design. It's very well designed. The items are placed with a lot of space in between so it looks fresh to look at. Hierapolish is built on top of Bootstrap.
Klorofil
Klorofil is a dashboard with tons of feature. It has a built-in layout builder and UI components. Along with the clean and elegant UI, it provides several page templates. Klorofilf is fully responsive.
AdminBSB
AdminBSB is another material design dashboard with punchy colors and clean user interfaces. It's beautifully created and the UX is top-notch.
Lumino is a great dashboard from Medialoot. It offers multiple pages, advanced data charts, forms, UI elements, and widgets. It's a responsive template built using Bootstrap and SASS.
Vali's clean and bright UI looks like it took some inspiration from Microsoft's Metro UI design principles. It offers multiple attractive color schemes. The UI customizability of Vali is astonishing. It is made using Bootstrap and Pug which is another reason for being one of our admin dashboard templates.
Novus Admin Panel
Novus is a flat design admin panel template that includes lots of UI components. Besides having a fluid layout, Novus also offers rich data presentation via charts and graphs etc. The package also includes the Photoshop source files.
MVC Admin Template
MVC is light both in the eye and functioning. It's very simplistic admin dashboard template that simply gets the job done. If you're overwhelmed by hundreds of the features of other dashboard templates, then MVC is the one for you!
More Info / Download
Hybrid Admin Dashboard Template
Hybrid is a flat design bootstrap admin dashboard template. It's built with Bootstrap 3.3 and offers a lot of customizability. It has UI elements, charts, tables, forms and all other common features.
Marvel Admin Dashboard Template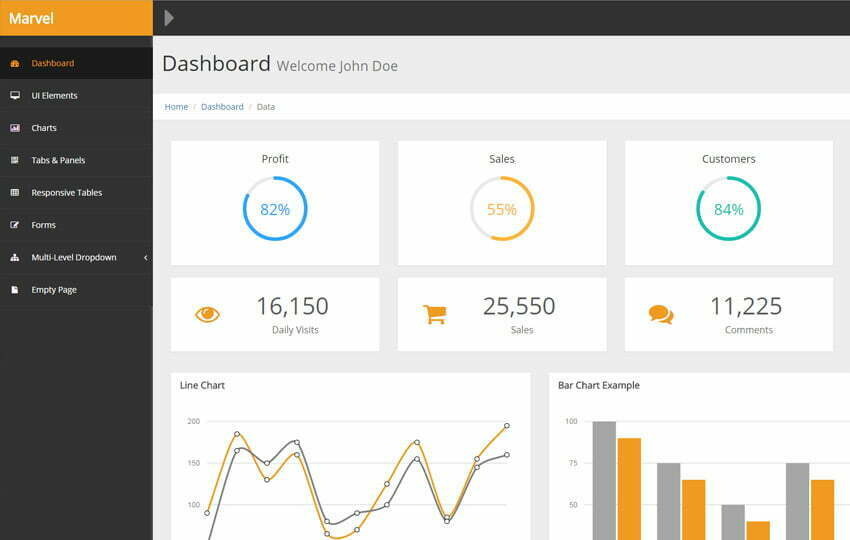 Another nice and clean dashboard template from the same team behind the hybrid dashboard. It shares some similarities in its design language. But it offers a different UI with different color scheme and includes all those cool features.
Adminty

If not niche-oriented, pretty much all free Bootstrap admin dashboard templates come applicable to numerous websites and applications. Adminty is one more super versatile site canvas that will take your breath away with the number of features it rocks. With as solid admin that you can build with the out of this world Adminty, you are on the right path to see the success you want to see. Having it all in total order is a must when running a business and bringing it to an entirely new level.
With Adminty, that is very achievable.
Adminty is an admin panel with three home designs and loads of other pages. It also has a full-screen button and a hide and show button for the sidebar. When both options turned on, you are all in your statistics and information, nothing else disturbing you.
More Info / Download
Concept

If you are looking for a free Bootstrap admin dashboard template, Concept is here to get you going strong. No need to look elsewhere and definitely no need to create an admin from the ground up. Once you utilize Concept, you get access to loads of material that will quick start your project and have it moving forward sooner rather than later. Hence the name, Concept is a multi-concept tool for financial, sales, eCommerce and influencer projects out of the box.
Some of the countless traits of Concept are charts and tables, forms, loads of internal pages and other practical UI elements. Of course, Concept is also 100% mobile- and retina-ready, as well as compatible with all the modern web browsers. Concept is a Bootstrap Framework based template what ensures flexibility and extendability, allowing you to alter it to your regulations with ease.